Housing Families, Building Communities, Creating a Stronger Frederick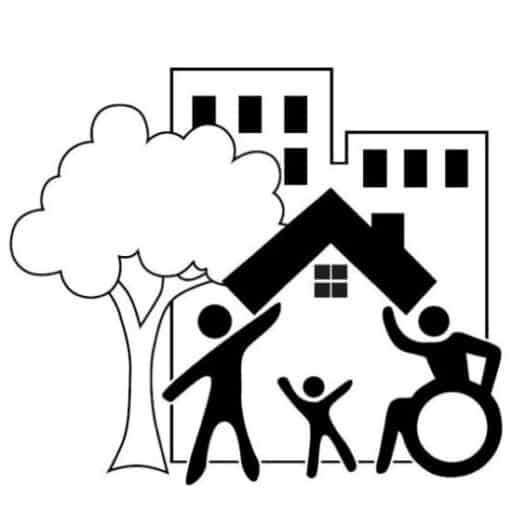 MEET OUR RESIDENT, MS. ANN ORAM!
Ms. Ann was born on Valentines Day in 1931. If you've done the math you know that she is celebrating 90 years this year! Although we could not host the big celebration she deserves, thanks to friends and family, they had a socially distanced parade  to wish her a very Happy Birthday. She has a son, granddaughter, three great grandchildren and so many friends in Frederick!
Ms. Ann lives in the Carver Apartments where she, in safer days, spends her time meeting up with her friends from the neighborhood to knit, get crafty or treat themselves to a fancy lunch. She is also a very active member of the The Asbury United Methodist Church. Ms. Ann has lived in Frederick her entire life and worked at Hood College, where she retired after 20 years. She says things have really changed since she was a child, the largest being the integration of schools in the 60's.
Shortly after Ms. Ann's birthday, she was invited by The African American Resources, Cultural and Historic Society (AARCH) to be a part of their Living Treasures ensemble where she will be honored and celebrated at an annual banquet with her peers. Congratulations!
We asked Ms. Ann what the secret to living a long and happy life is and she replied "Stay active and keep moving!" That she does! She also mentioned to spend time with the people you love doing things that make you happy. We are honored to have Ms. Ann in our community and will continue to celebrate her as much as we can!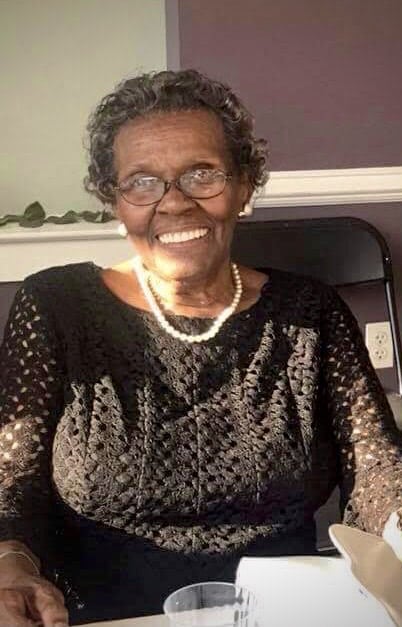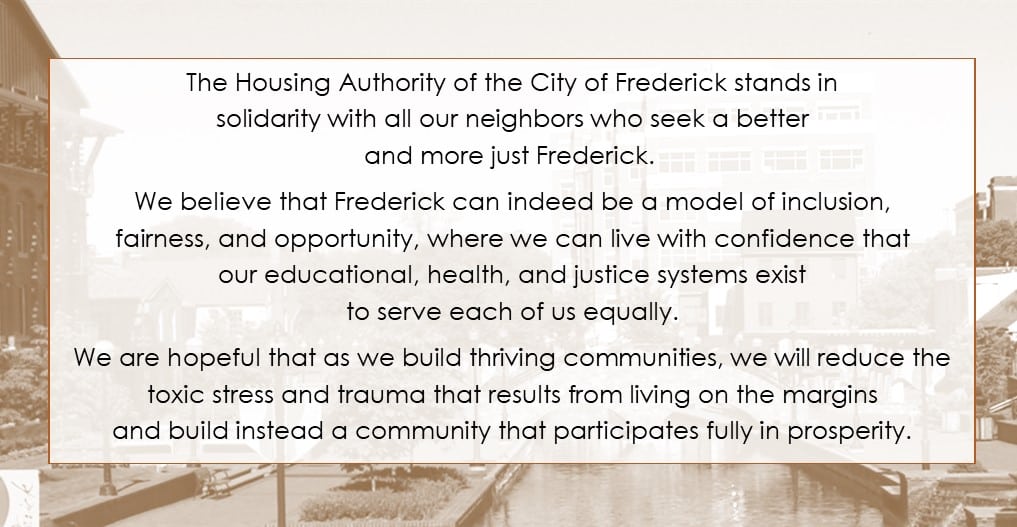 To Our Residents and Participants:
As we work together to weather this crisis, the Housing Authority of the City of Frederick (HACF) wants to make sure we are accessible to our residents. 
We are in this together!
 Although our offices are closed, we are still available by email or phone to make sure your income information is updated, 
emergency maintenance is done, and essential family services are provided.
 For information about general community resources, call 2-1-1
For our staff directory, click 
here
. Please let us know how we can help!
Applicants:
 Please utilize our website to submit application for our public housing waiting list.
Click the following link to find out more about our housing application: https://www.hacfrederick.org/application/

If you need to update your application, please download the update/reactivate forms from the website and mail or fax into our office.



ANNOUNCEMENTS:
The Housing Authority of the City of Frederick Main Office will be locked to all incoming traffic to prevent any increased risk
to our staff and community members until further notice.
Notice of HUD Waiver and Alternative Requirement
            As of April 10, 2020, the Housing Authority of the City of Frederick began utilizing regulatory waivers regarding income verification, interim reexamination and annual recertification pursuant to HUD Notice PIH 2020-05. The Authority will be prioritizing the processing of interim reexaminations due to decreases in family income and will use the temporary waiver of PIH Notice 2018-18 for third party documentation. The Authority may conduct verification over the telephone, through email with a self-certification form by the family, or through other electronic communications. Your caseworker may decide to continue processing (or delay) annual recertification through telephone, email or postal mail with a self-certification form by the tenant or through other electronic communications.
            The Authority will also utilize waivers in regards to Housing Quality Standards (HQS) inspections in both the public housing and Housing Choice Voucher programs. Any delayed inspections will be rescheduled as soon as reasonably possible when it is again safe to do so but will be completed before the date established by HUD. The use of this waiver does not relieve owners or participants of their responsibility to maintain the unit in accordance with HQS as required by the HAP contract or family obligations. The Authority may continue to conduct Initial Inspections, when safe to do so, to ensure the health and safety of participant families during their moving process.
            The Housing Authority of the City of Frederick would like to remind all participants that information provided to the Authority must be true and complete information. If any material discrepancies arise later in the review process, the Authority will take enforcement action in accordance with our administrative plan. These waivers will only be available during HUD predetermined period end dates.
Read about the newly appointed Secretary of HUD, Maria L. Fudge and all the Vaccination efforts in our Mid-Atlantic Region
Section 8 Voucher Resident Becomes a New Homeowner